Bedremode.nu's fornemmeste opgave er at gøre bæredygtig shopping let!
Jeg startede bloggen som en shoppe guide for mine veninder, og siden er fællesskabet vokset, men vi har stadig det samme ønske: At finde rundt i den jungle som det kan være når man skal shoppe bæredygtigt tøj og mode. Derfor har jeg samlet de bedste mærker i en let og overskuelig guide. Jeg tror på at man kan finde næsten alt bæredygtigt, og hvis ikke du kan finde hvad du leder efter her på siden, så send mig en besked på johanne@bedremode.nu – I bunden af siden finder du mine kriterier for hvornår et mærke kan få plads på listen.
Bedremode's guide til Bæredygtigt tøj
---
Best Basics
Det tøj du går i hver dag – dine t-shirts, bluser og strømer som bærer dig gennem hverdagen. Gå efter økologisk bomuld og dyk ned i et udvalg hvor du kan få alt fra den mest hvide t-shirt til sjove prints og sexede tights.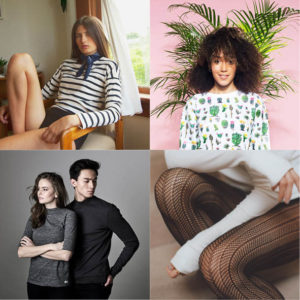 Neutral – Certified organic cotton basics + 5 other certifications (M/F)
The Baand – Certified organic cotton basics
Önling – Ecofriendly materials
Dedicated – Cool organic streetwear and basics (M/F)
Swedish Stockings – Recycled tights and stockings
Amov Apperal – Organic and durable basics (M/F)
Uru design – Organic socks with cool patterns
Popupshop – Cool prints and organic cotton basics
---
Wardrobe Heroes
Dit yndlingstøj som passer til alle anledninger. I denne katagori finder du seje brands som kan opfylde de fleste af dine tøj behov om du er til boheme eller skarpe snit.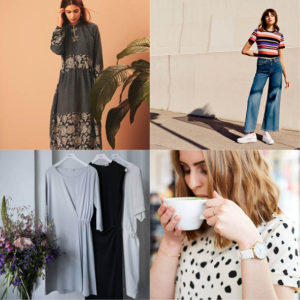 Another View – Fair, Clean and Recycled materials
Filippa-K – Clean, structured and better materials (M/K)
People Tree – Organic & fairtrade fashion
Sissel Edelbo – Recycled colorfull fashion
Thought – feminine clothes and eco materials
Armedangels – everyday clothes with cool details and print (M/F)
Hess Natur – Quality garments in classic cuts
Ecoalf – Edgy style from recycled materials
Fonnesbech – Luxury sustainable clothes
Miss Green – Feminine styles in sustainable materials
Jann n June – Cool styles in innovative materials
Mette Frejvald – Unique styles from deadstock material
---
Dresses & Shirts
Kjoler som gør sig godt til alt fra hverdag til fest. Og skjorter som du kan dresse op og ned og beholde i mange år.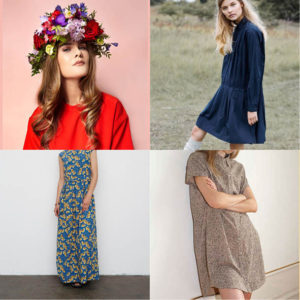 Tricotage – organic dresses and more
Skall Studio – Slow fashion shirts and dresses
People Tree – Organic & fairtrade fashion
Ecouture by Lund – Organic cotton dresses
Aiayu – Organic cotton shirts
Agurk Studio – Colorfull and playfull fashion
Schulz by Crowd – Responsible production and bright patterns
---
Soft Wool
Lækkert bæredygtigt uld fra skandinaviske designere. De har respekt for dyrene, naturen og design som holder.
Aiayu – Sustainable soft knitwear
Care by Me – Cashmere slowfashion
Maska – Made in Europe knitwear
Muse knitwear – Sustainable wool
Serendipity Organics – Organic Wool
Dilling – Organic Wool underwear (M/F)
Stinne Gorell – Fairtrade, Sustainable or made in Denmark
Farmers Market Iceland – Responsible made knits from Iceland and beyond (M/F)
---
Denim & Trousers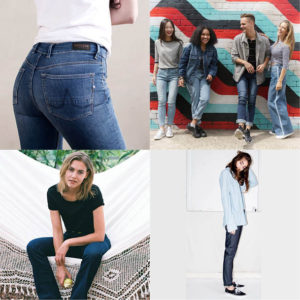 Nudie Jeans – Certified organic denim (M/F) (Nudie jeans via Zalando affliliate link)
Kuyichi – Certified Organic and transparency (M/F)
People Tree – Organic & fairtrade fashion
Monkeegenes – Organic jeans (M/F)
Mudjeans – Sustainable jeans, recycled, organic and circular (M/F)
---
Outer Layers
Jakker, tasker og alt hvad du har på yderst. Fra regntøj til seje læderjakker der kan holde dig cool og varm.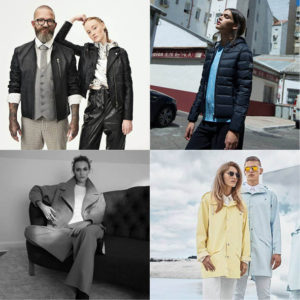 Pele Che Coco – recycled leather pieces (M/F)
Better World Fashion – recycled leather jackets (M/F)
Abury – traditional craftsmanship
Rains – Oeko-tex certified rainjackets (M/F)
Ecoalf – Edgy style from recycled materials
Fonnesbech – Luxury sustainable clothes
---
Shoes
Bæredygtige sko er svære at finde, men enkelte mærker udmærker sig med sejt design og bedre materialer.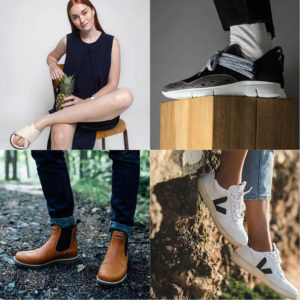 Eknfootwear – edgy shoes and sneakers in eco materials
Veja – Sustainable Sneakers (M/F) (Veja via Saranza affiliate link)
Sorbas Berlin – Classic shoes in ecofriendly materials
Twins for peace – buy one, give one (M/F)
Bourgeois Boheme – sustainable shoes made in Portugal
Kavat Sweden – Comfortable shoes in eco-leather
---
 Active Wear & Underwear
Det du har på inderst eller til træning. Fra blødt bomuld til sexet undertøj i genanvendte materialer.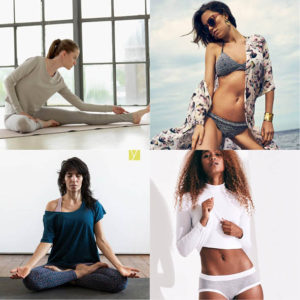 Yogamii – Certified organic yoga wear
The Baand – Certified organic cotton yoga wear
Underprotection – Sustainable underwear
Woron – Sustainable modal underwear
Dilling Underwear – sustainable wool undergarments
---
Circular clothing concepts
Det er ikke altid nødvendigt at købe dit tøj. Cirkulære koncepter popper op og viser hvordan vi kan forbruge tøj på en mere bæredygtig måde.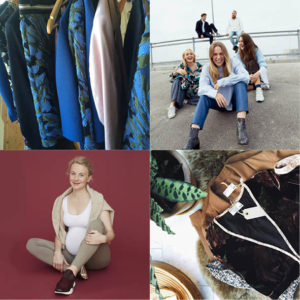 Vigga – organic childrens and maternity wear on subscription
Kalo Copenhagen – chic business wardrobe on subscription
The Organic Club – Curated swap stores in Copenhagen, Odense & Svendborg
Veras Copenhagen – Membership based swap shop, online and offline
---
Multibrand stores
Hvor går du hen hvis du gerne vil finde mange brands samlet samme sted? Til nordens sejeste bæredygtige butikker der samler de bæredygtige mærker og gør shopping lettere.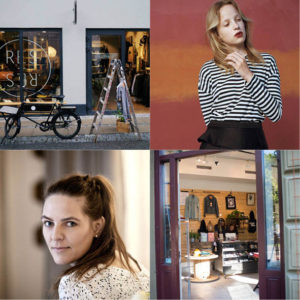 Res Res – Everyday clothes with respect for natural resources (M/F)
Rêve en Vert – High quality and luxury sustainable fashion
Ecosphere – Swedish webshop with sustainable fashion
T H R I V E – Big selection of sustainable brands
---
Better Fast Fashion
High Street butikkerne kommer efter det når det kommer til bæredygtige materialer. Flere af de store er nu kommet på banen med en "bedre" kollektion.
H&M Consious – line with more sustainable materials (M/F)
Gina Tricot – The good project – some organic and/or tencel basics
Asos – Eco Edit – Selected asos styles with eco materials (Affiliate link)
Zara – Join Life – Collection in eco and recycled materials (M/F)
Monki – All denim is organic or recycled
Weekday – All denim is organic or recycled
---
Kriterier for at blive medtaget:
(Ikke alle kriterier skal være opfyldt, da bedremode.nu gerne vil vise bredden i hvad der findes af "bedre" tøj derude. Nogle brands opfylder alle kriterier, andre kun et eller få.)
– Arbejdsforhold i produktionen tjekkes og forbedres
– Der bliver brugt "bedre" materialer i produkterne
– Noget af overskudet går til sociale eller velgørende formål
– Produktionen er lokal
– Der indgår genbrugs materialer i produkterne
– De sender til Danmark
The criteria to be included are:
(Not all criteria has to be met. bedremode.nu wishes to show the variety of available "better" clothing options. Some brands meet all, others only few or one)
– Working conditions during production are monitored and improved
– "Better" materials are being used in the product
– Parts of the profit are used for social projects or charity
– Production happens locally
– Recycled materials are used in the products
– The ship to Denmark